Work and Life in Balance @ Saxony
Saxony delivers everything businesses and organizations want most. Accessibility and amenities. Traditional values mixed with modern appeal. Room to grow. And so much more.
Working at Saxony has limitless advantages. The more than 3.5 million square feet of office and light industrial space planned for Saxony delivers:
Convenience - Close to all then necessary services that businesses and employees require, including financial, medical, hospitality and personal services
Proximity - A short walk or drive to the planned retail and entertainment districts
Accessibility - An easy 25-minute drive from downtown, 40 minutes from Indianapolis International Airport, and ten minutes from Mount Comfort Airport
Workforce – Currently, nearly 26 percent of the workforce population (25 years and older) within and around Saxony hold bachelor and advanced educational degrees; approximately 7,000 people are expected to work in and around Saxony over the next 15 years. For more demographics, click here.
Housing – A variety of housing opportunities within Saxony and in the surrounding area are walking distance from Saxony's business, entertainment, and retail districts
Parking - Business districts are designed to offer ample parking to accommodate employees and visitors

The Bonn Building @ Saxony
Located in the heart of Saxony Village, this 36,000 sq. ft. Class-A mixed-use building offers something for everyone.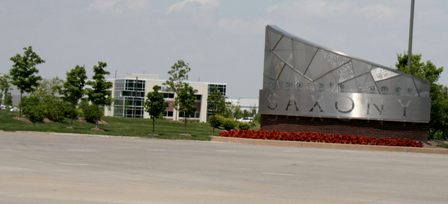 Saxony Corporate Campus
Saxony Corporate Campus is located on the north side of Saxony and is comprised of a dynamic mix of businesses.
Businesses @ Saxony