Demographics
A growing, thriving community located at the crossroads of America. That's what you'll discover when you live, work, play and learn @ Saxony.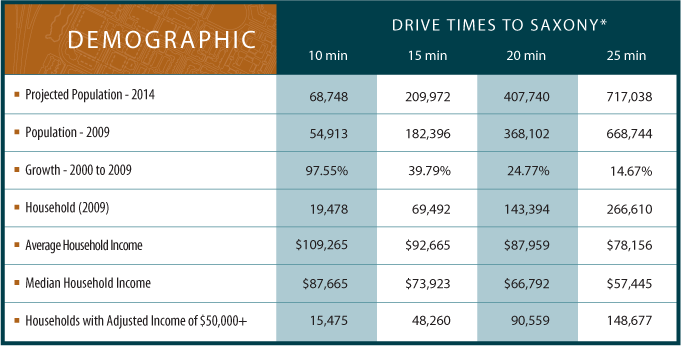 Growth - Hamilton County is Indiana's fastest growing county, achieving 67.7 percent growth from 2000 to 2007. Nationally, Hamilton County is the 23rd fastest growing county by population. Saxony borders Fishers and Noblesville, which recorded 72.8 percent and 45.3 percent growth between 2000 and 2007, respectively. In 2008, Forbes magazine named Hamilton County as the best place in the U.S. to raise a family. In that same year, CNN/Money named Fishers in the Top 10 places to live and Noblesville was named Indiana Community of the Year.
Population - The 2013 projected population for Hamilton County is 317,947, which keeps pace with its 6.7 percent annual growth rate since the 1990s (the MSA averages 1.5 percent). Between 2000 and 2008, the county's population grew 74 percent. The median age is 34.2 and the workforce is largely white collar.
Income & Employment - Total employment in Hamilton County in 2007 was nearly 141,000, an increase of 77 percent since 2001 and it continues to be the Indiana leader in several income-related categories. The average adjusted household income is $93,313, ranking it 20th in the U.S. Hamilton County was ranked 12th in the Midwest by average wage and salary.
Education - Hamilton County is ranked 14th nationally for adults 25 years and older who hold a B.A. degree or better. The County continues to be the leader in the state by educational attainment where 50 percent of the population has received a B.A. or better.
Visibility & Accessibility - Saxony is one of the most visible and accessible locations in the greater Indianapolis area. Spanning both sides of I-69, Indiana's developing corridor for the life sciences, Saxony is the hub that connects major arteries including Olio Road, SR 238 and 146th Street. Current daily traffic counts at Saxony's Exit 10 (soon to be Exit 210) exceeds 90,000.
Source: Hamilton County Alliance 2008