Independence Celebration at Saxony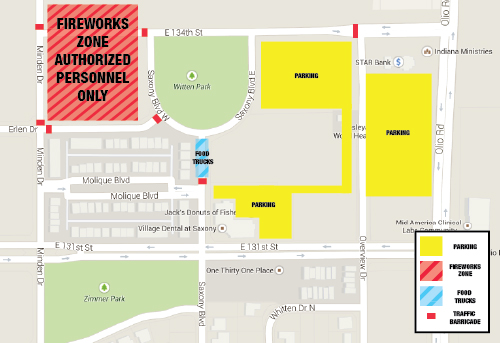 SAXONY INVITES THE PUBLIC TO ITS 3RD ANNUAL INDEPENDENCE CELEBRATION
Free Concert Featuring My Yellow Rickshaw and Fireworks Display
FISHERS, Ind. – June 27, 2014 –The third annual Independence Celebration at Saxony will be held Thursday, July 3 from 7:00pm-10:15pm. The presenting sponsor is IU Health Saxony Hospital. The evening kicks off at 7:00pm with a concert featuring My Yellow Rickshaw. A fireworks show will follow the concert at approximately 10:00pm. Food trucks at the event will include Kona-Ice, The Flying Cupcake, Mrs. G's Taste of Home, and Mager Kettle Corn.
My Yellow Rickshaw delighted Independence Celebration attendees in 2013 and Saxony is excited to have them return. My Yellow Rickshaw is one of the area's most popular cover bands with a set list including everything from yesterday's hits to the modern rock and roll and pop.
"It is exciting to see the community come to Saxony and celebrate the upcoming holiday," said Candi McKinnies-Shreve, Marketing Manager at Saxony Management Company. This growing, free event is open to the public and all ages are welcome to celebrate. Guests are encouraged to bring blankets, chairs, and a picnic dinner to enjoy during the show.
Visitors to Saxony on July 3 also have the opportunity to participate in a nighttime fireworks paddle at Saxony Lake with Freedom Kayak Adventures. "Nothing is better than sitting in a boat while watching the fireworks. You get to see the display in the air and the mirror image shimmering on the water's surface,"said Paul Hilton of Freedom Kayak Adventures. The fireworks special begins at 8:00pm. For $25 you can use any available watercraft until the end of the fireworks show. Reservations for the fireworks paddle are limited. Call (888)-830-4531 or email info@freedomkayakadventures.com for more information.
Follow @SaxonyIndiana on Facebook and Twitter for the most up-to-date information about the Independence Celebration and other events in Saxony.
Saxony, utilizing "new urbanism" principles in its design, is a 750-acre development that spans both sides of I-69 and Exit 210 in Hamilton County. At build-out, the $1.5 billion project will include a mix of corporate office, retail, entertainment, civic, multi-family and single family uses, all set within a framework that is home to leading edge companies such as Community Health Network, Helmer Inc., IU Health, Ball State University, STAR Financial Bank, Verus Partners, The Wesleyan Church Foundation, Performance Marketing Group, and leading retailers and an affluent, vibrant workforce. www.saxony-indiana.com
###