Saxony Market Opens for the 2017 Season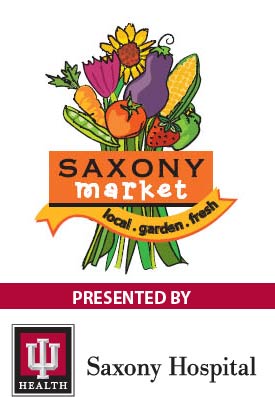 FOR IMMEDIATE RELEASE
Saxony Market Opens on May 20 for the 2017 Season
FISHERS, Ind. – May 9, 2017- Saxony Market, a local fresh produce farmers market located in Saxony Village, gladly invites the community to Saxony Market's 2017 Opening Day on Saturday, May 20 from 8:00 a.m.-12:00 p.m.. This season, local farmers and vendors unveil their locally grown produce and plants, baked goods, meat products and hand-made products at Saxony Market. Located at 131st and Olio Road in Fishers, Saxony Market, presented by IU Health Saxony, will continue occurring every Saturday 8:00 a.m. to 12:00 p.m. through September 9, 2017.
"Saxony Market is more than a typical farmers market. It is a weekly ritual where neighbors, friends and family gather together to shop for fresh produce and artisan items, listen to live music and enjoy the children's activities." Candi McKinnies-Shreve, Marketing Manager of Saxony Management Company.
Saxony Market has approximately 32 local vendors each week including farmers, bakers, artisans, and more. Saxony Market is not only a great place to purchase local produce and goods, but it is a place to enjoy the day with family and friends. Weekly entertainment at Saxony Market will include Indy's finest local live bands, along with a variety of special events days, including:
June 17, 2017 - Pet Day
July 8, 2017 –Kids Day
July 29, 2017- Corn Day
August 5, 2017- Superhero Day
August 19, 2017 - Health & Wellness Day sponsored by IU Health Saxony Hospital
September 9, 2017 - Balloon Day
Vendors interested in participating in Saxony Market for the remainder of the season or for next season please email info@saxony-indiana.com or call 317.770.1818 for more information.
Follow @SaxonyMarket on Facebook and Twitter for updates and special events occurring at the market.
Saxony, utilizing "new urbanism" principles in its design, is a 750-acre development that spans both sides of I-69 and Exit 210 in Hamilton County. At build-out, the $1.5 billion project will include a mix of corporate office, retail, entertainment, civic, multi-family and single family uses, all set within a framework that is home to leading edge companies such as Community Health Network, Helmer Inc., IU Health, STAR Financial Bank, The Wesleyan Church Foundation, Performance Marketing Group, along with leading retailers such as Cabela's, Duluth Trading, etc. www.saxony-indiana.com
###