Saxony Townhomes

Saxony Townhomes, developed by Ryan Homes, offer low-maintenance living and a great community environment. All townhomes are designed to fit seamlessly with the surrounding neighborhood. Exteriors are brick and front doors open to engaging streetscapes lined with diverse housing and open spaces. Ryan Homes' Wexford model townhome features a spacious downstairs living room, a luxurious upstairs owner's suite, and convenient 2-car attached garage. Options allow you to own 2,075 square feet of living space with 3 bedrooms and 2 1/2 bathrooms with added features such as a kitchen island, granite countertops, and a finished recreational room/basement just to name a few.
Saxony Townhomes enjoy these amenities: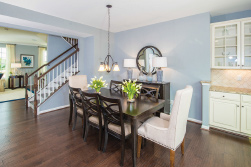 A unique urban setting just a short walk from Saxony's planned entertainment and business districts, restaurants, services, schools, and shopping venues
Distinctive community-within-a-community environment with low exterior maintenance
Abundant nearby recreational space including a network of parks, wooded preserves, and walking paths
Office districts close by to reduce commute time
Swimming pool
Excellent police, medical, emergency, and fire protection services
The renowned Hamilton Southeastern School District just a few blocks away
Click here for more information on Saxony Townhomes.