IU Health Saxony Hospital opens next month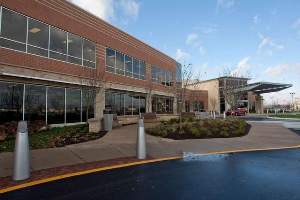 November 9, 2011 - Indianapolis Star
By: Star Report
Fishers will soon have a new hospital. Indiana University Health Saxony -- a 42-bed hospital specializing in heart, orthopedics, spine and emergency care -- will open next month.

The three-story, 200,000-square-foot hospital, which cost $269.2 million, features all private rooms.

Each room has space for family members to stay overnight, as well as a separate television for visitors.

Sixty physicians will be on the medical staff. A medical office building next door will house an outpatient surgery center, a sleep lab and cardiac rehabilitation and specialty clinics. It also will have a retail pharmacy, gift shop, and cafe.

The building was designed in accordance with the Green Guidelines for Healthcare and is one of only six buildings in Indiana to be registered officially on the Green Guidelines website.

As part of the green design, the three-story glass windows in the lobby maximize natural light, reducing the need for electricity, while low-flow plumbing fixtures reduce water use by about 35 percent.

In addition, builders reused about 20 acres of asphalt as fill during construction, and all 210 tons of metal studs used to build the hospital's walls came from recycled metals.