A healthy addition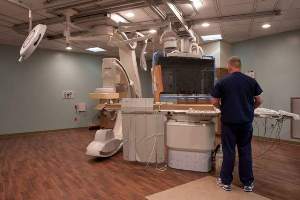 November 17, 2011 - Indianapolis Star
By: Dan McFeely

There are many features that make Fishers' new hospital a beautiful sight.

Three-story windows in the lobby, rain gardens sprinkled across the land and, of course, a cafe and coffee bar.

But what may be the most attractive feature of the new IU Health Saxony Hospital -- which opens its doors Dec. 1 -- is the impact it will have on Fishers and the Exit 10 area.

"The hospital is just the latest addition to this incredible area," said Fishers Town Council member Stuart Easley in an email. "The hospital alone will employ a workforce of about 250, as well as 60 physicians."

Even more promising, Easley said, is the way hospitals tend to be "regional accelerators" for businesses and jobs that spring up nearby. One economic barometer estimates that for every job created by the hospital, another 1.2 jobs is created locally.

That's good news for an area that already has seen tremendous growth, most of it on the Noblesville side of the I-69 interchange, where the Hamilton Commons mall is located.

The 42-bed hospital will have a 24/7 emergency room -- and a helipad spot for Life Line -- while focusing its medical care on the heart, orthopedics and spine.

The three-story, 200,000-square-foot hospital, which cost $269.2 million to build, will feature all private rooms, each with space for family members to stay overnight, as well as a separate television for visitors.

A medical office building next door will house an outpatient surgery center, a sleep lab and cardiac rehabilitation and specialty clinics. It also will have a retail pharmacy, gift shop and cafe.

Curious to know what it looks like inside?

The hospital will host a special public tour from 1 to 4 p.m. Nov. 20.

Dr. Philip Dulberger, the CEO and chief medical officer, is excited and counting down the days to the grand opening. The 48-year-old former anesthesiologist for Community Health Network lives in Fishers with his family and soon will enjoy a much shorter daily commute.

"I am vey excited, but mostly excited at the opportunity to deliver the best patient care and the opportunity to improve the health and quality of life to residents of Fishers and the surrounding area," Dulberger said.

And while the town's first hospital won't be as big as IU Health's hospital in Carmel or Methodist Hospital in Downtown Indianapolis, it will offer plenty of quality programs and services, as well as a pipeline to the entire IU Health system, Dulberger said.

There is room to expand but no plans are on the table.

"Out intent was to start with core services and focus on those first," Dulberger said. "Then we will let the market dynamics help us grow together with the community."

Patient rooms have fewer white walls, bright lights and beeping sounds. Instead, these room are designed with both medical and "comfort technology."

Medical equipment is there, of course, but hidden behind wooden cabinets to provide a more peaceful environment. Rooms are family-oriented and include extra space and couches that fold out for loved ones to stay the night. The hospital will offer 24-hour visitation.

Easley, who said Fishers residents have not had to travel far for hospital care (Community North is just down the road, and Riverview Hospital is not far away in Noblesville), thinks the added element of competition can be nothing but good news for local residents.

"Competition yields higher levels of services and improved access for critical emergency care and a range of other medical specialties," he said. "Indiana University Health saw an opportunity to improve the health and quality of life of the residents of Fishers."

And speaking of competition . . .

Last month, St. Vincent Health broke ground on a 110,000-square foot expansion of its medical center at Southeastern Parkway and Olio Road, converting it to a 40-bed inpatient hospital. It is projected to create more than 200 new jobs with the opportunity for more as the hospital continues to grow. Construction is expected to be complete by 2013.

Call Star reporter Dan McFeely at (317) 444-6253.