Fishers Oktoberfest @ Saxony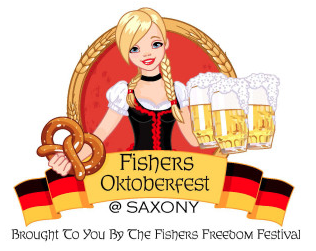 09/22/2017 12:00 AM - 09/23/2017 11:59 PM

Fishers Oktoberfest @ Saxony
Friday and Saturday, September 22-23
Friday: 5:30-10:30pm / Saturday: 12:00pm-10:30pm
Witten Park @ Saxony
13257 Saxony Blvd, Fishers
Don your lederhosen and dust off your stein 'cause it's time for the Fishers Oktoberfest @ Saxony! This 2-day celebration in Witten Park begins on Friday, September 22 with a concert in the park featuring live music from The Big 80's. The event hours are 5:30pm-10:30pm with the band playing 7:00pm-10:00pm.
Saturday's festivities kick off at 12:00pm with a free kids zone featuring local businesses from Saxony and surrounding areas in Fishers along with local artisans in the vendor area. Throughout the day the musical entertainment will include: Polkamotion, Dave & Rae and capping off the evening with Big Daddy Caddy. There will be an all ages costume contest.
Both nights will offer some of the best authentic German foods and beverages along with local food vendors.
For a full event schedule, please click here.